MOOSOR COMPOUND FIBRE TABLET CANDY 
It's a supplement to
- Block sugar
- Dispels oil particles
- Block carbohydrates
- No heart palpitations
- No harsh extreme diet
- No banned ingredients

SEE RESULTS IN JUST 2 DAYS!
NEW added ingredient HASHIMA which can aid in slimming +beautify skin too! 


𝐇𝐚𝐬𝐡𝐢𝐦𝐚 𝐬𝐧𝐨𝐰 𝐣𝐞𝐥𝐥𝐲 雪蛤 — Rich in Collagen & amino acids. Enhance skin & immunity. Helps to regulate metabolism & reduces body fat

𝐏𝐫𝐞𝐛𝐢𝐨𝐭𝐢𝐜𝐬 & 𝐏𝐫𝐨𝐛𝐢𝐨𝐭𝐢𝐜𝐬 — Aid digestion with good bacteria for your gut. Helps to excrete toxins, improve metabolism & immunity
FULL INGREDIENTS:
Fructooligosaccharide, Xylitol, Sorbitol, Rana chensinensis (Hashima), White kidney bean extract, Flammulina velutipes extract,
Fruit and vegetable enzymes, Inulin, Lactobacillus rhamnosus, Streptococcus thermophilus,
Lactobacillus bulgaricus, Milk  Fidobacterium, resistant dextrin, citric acid, sodium ascorbate, magnesium stearate.
Main ingredients:
1) Flammulina velutipes extract efficiently locks the oil, like a super elastic network, the oil cannot be broken down and absorbed by the human body. Finally, it passes through the large intestine and is smoothly discharged from the body. You will not get fat when you eat! Moosor is the perfect choice to help fats not be absorbed and to better promote stool excretion!
2) White kidney bean extract inhibits the action of amylase and prevents amylase from decomposing starch. Excessive starch food cannot be digested and absorbed. Finally, it is also smoothly discharged through the large intestine. You will not get fat if you eat! For the people who loves to eat rice, noodles, pasta, and pastries etc, Moosor is best for erythritol (O calories). 3) Algin increases gatrointestinal capacity. It helps to promote intestinal vitality. It prevents fat from being absorb by our bodies.
Are there any side effects?
Moosor is 100% pure natural vegetable and fruit ingredients and does not contain any pharmaceutical ingredients. The product will not cause any side effects to the body. The company promises that there are NO banned ingredients additions in the product, and the PICC Insurance underwrites the safety and science to get the greatest guarantee!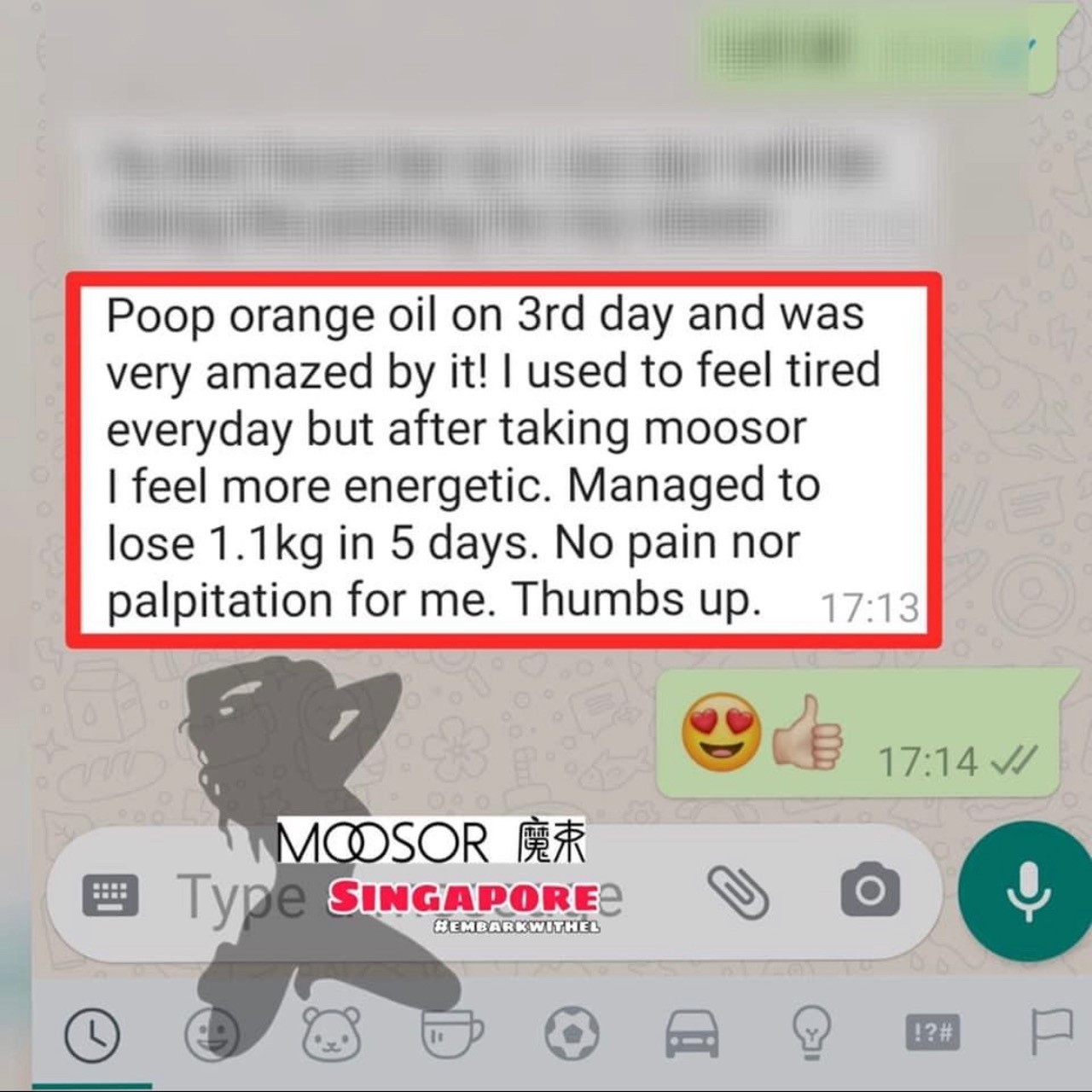 Not recommended for people
1) Not recommended during acute diarrhoea
2) Pregnant women/children under 12 years old/infants are not recommended for consumption
3) It is not recommended to reduce fat during the acute stage of the disease, and eat with caution
4) Patients with special diseases need to consult professionals before eating